3 nights in Jordan
You noticed my spam posts on Facebook and Instagram. Now it's time to tell you the story in real words, real sentences. Now, after refreshing shower and amazing lunch at my sister's place, where I invited myself after looking into empty fridge, I'm ready.
At first, there was a word and that word was Petra. In addition to that, I was already missing travelling, so my soul could not find peace and one short post about cheap return flights was sufficient enough to make me post the question "Who is coming with me?"… Answer came from Janka, Lukas and Matus almost immediately, and within 20minutes we booked our flight to Eilat in Israel even though our desired place was Petra.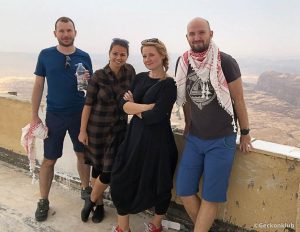 Facepalm? I hear you… and you're absolutely right. I know, it's much easier to fly to Amman. Now. Now I know. Really. But back then, it looked like a good idea to fly to Eilat and just take the car for 2 hours drive to Petra and on way back visit also Death sea and!… nobody stopped me. I think they thought that I know what I am doing and they never heard about my travel karma or maybe, they enjoy the life on the edge…
Of course it is something that can be managed, BUT Jordan is very smart about tourists – one day trips to Petra are expensive as there are additional fees for one day visit in Jordan, but there is special discount if you're staying in Jordan at least 3 nights. Basically, they have very good $$ arguments to make you stay at least 3 nights. It is worth it, because there is a lot to see in Jordan even during longer stay. Logistic question however appears in case you book your return flight to Eilat (Israel) arriving at 6:30pm on Wednesday, and leaving at 12:15pm on Saturday.. This might be perfectly timed… or not.
Crossing the Wadi Araba borders
Spoiled Europeans used to cross the boarders just like that at any time.. I can tell we usually don't expect strict time schedule – opening hours, if you will, at the Wadi Araba boarders. We don't count with the fact, that after 8pm you can not cross the line any more…
So our plan was simple. Land at 6:30pm and within 90 minutes pass the control check in Israel (we had just hand luggage so no need to wait) exchange the money, get a taxi and deal the price, take that 30 minutes drive from airport to the boarders and successfully pass – what basically means (and I know that only now) to talk to at least eight different people checking our passports or simply protecting the country and then walk trough the land of no one to get to the other side. Still possible, right?
Almost perfect, but… Ryanair flight was late 20 minutes, Matus had too big bag so they took it as checked in luggage, which lead to him looking very suspicious, walking around the airport with hands in his pockets, so security took him aside for lovely chat and it took him a little longer to pass the passport control as well. We did not have time to change the money so we paid expensive touristic prices in euros.
On the borders we were asked all questions in the world at every single door and got so many stamps …. and those looks, shaking heads…
…dramatic pause…
… we crossed the boarders at 8:04pm, heading to Jordan taxi mafia. At this time, it does not make sense to try to discuss the price in the middle of the desert. As we all know, they are the only chance we have.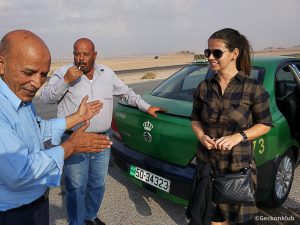 I'll skip the part about accommodation in Aqaba. For your imagination, I attached the picture of fire alarm that looks almost like a plastic box from some yogurt, and the fact that the overall standard of changing towels and bed sheets after every customer has obviously not made it to this country yet. But what was implemented successfully is a photoshop miracle as pictures we saw at booking versus the reality are something similar as comparing my Instagram pictures taken when I'm not breathing, having the perfect 30 degrees angle versus my belly when I sit comfortably after lunch at Rado's grandmother's place.
Day D – Petra
Alarm set to 6 am, very brave breakfast and taxi driver arranged via WhatsApp and let's go to Petra!
To take the taxi to Petra means to stop at every nice view (or smoking break for taxi driver on the side of the desert covered with the plastic trash) and also super luxury souvenir shop, where you can buy the most original scarfs from real camels! They still smell like camels and you can hear them roar when you put it on your heads – all genuinely hand made and so detailed that all hundred pieces look the same… Boys can tell… I'm sure they stare at their scarfs back home now thankful for the camel that was sacrificed for their scarfs (somewhere in China).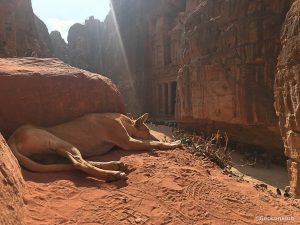 Petra is magical and we were more than satisfied with our visit there. In fact, we had no clue that one of our friends has a master's degree in history – he definitely had something to say (thank you, Lukas). The lost city is actually uncovered by no more than 15% from the original size and all the archaeological work was stopped. But despite that, we had a lot to visit during that day. We left our hearts in Petra, a piece of ourselves.. and in my case by every meaning.
You know how it is when you're traveling – trying all exotic food, various spices, combinations that you are not used to and drinks… well, I managed all that. What made me sick was garlic powder in pepper Pringles chips. My garlic intolerance made me puke right there in Petra with the perfect view of Monastery…
Anyway, let me show you some pictures from Petra – they can tell you much more than my words…
Wadi Rum Desert and night in Bedouin camp
The night after Petra visit was adventurous – we spent it in the tents in the Wadi Rum desert. Luxury beds, perfect food, happy tea, shisha, camp fire under million of stars – so impressive, breath taking and so prefect in every way you feel as it cannot be real. But it was. We had to go to bed early because of supper aggressive lady from Bulgaria that did not get the point of sleeping in the tents, but on the other hand, it was a good thing because the very next morning, we woke up at 5:30 and head to another perfect moment – to watch the sunrise in the desert.
Don't get confused by my face – sun rise was truly amazing, what you can read from my facial expression is lack of caffeine … but no worries, they have all survived.
The day's program was Desert Jeep Tour where we were joined by a very nice Canadian man– Robert. We fell sorry for him joining such group as we are, but it took us maybe 2 minutes to realize he is on the same wave as we are.. and what a wave he is – real tsunami! And I mean it as a compliment.
Maybe at this point you think again, spoiled Europeans driving jeep in such amazing nature, but in reality, jeep just took us from one place to another and we were asked to simply hike and climb the walls. I really thought I left the rock climber back home as he had some work in Czech Republic, but I was so naïve, cause I took another rock climber with me. And the result? Well, I noticed very similar basic behavior and tendencies, intention to climb everywhere, which woke up my natural reaction to follow him even in bad shoes, even to places behind my possibilities. Lukas was very patient with me and when I ended up on the ground with a piece of rock (locker) in my hand (close to death)- all he said were all the same things that I've already heard from Rado… Climbing is more about legs, not the arms.. so MAYBE I should start listening…
Wadi Rum desert is natural park that has a lot to offer. It's not just sand how you picture it, but amazing rock walls in various shapes, colors, perfect views… You look at the canyons and you see the movie scene when Bedouin tries to escape, he runs into the canyon and without issues gets lost in a place that looks like the end of the path and as the result, his pursuer basically gets lost and dies in desert (yeah, we were checking the fuel and Ahmed's intention to leave us alone in the desert regularly).
Bedouins are at home here.
Flora is so rare in here and so dry, but even that is something they can use. Within 3 minutes they can make a soap out of that. 40 years ago, government made them leave the desert and forced them to live in the village, try to integrate into society, but it's not easy.
And it's not easy to pick enough wood for the fire in the desert as well for the tea during the sunset.
And the camels? Yeah, they are part of the desert as well. Lukas fell in love with one and he insisted it's so soft and fluffy as a teddy bear so I decided to try to pet one. It ended up with one scared camel and me screaming when it decided to eat me. He explained it's just my hair that looks like dry grass (thank you a lot for such compliment) and basically, camel was just hungry… poor thing.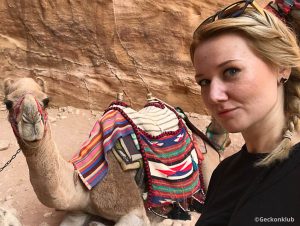 TIPS FOR TRAVELING IN JORDAN AND PETRA
The very next morning we just packed our bags and went back to the airport in Eilat. We took the taxi to Aqaba, crossed the boarders, took a taxi to the airport and passed all the security interviews about everything. I love airport in Israel. Honestly. It's one of the best organized and effective airports I've ever been to.
To sum this up:
The entry ticket to Petra is expensive. Think about getting a JordanPass and stay at least 3 nights in Jordan – JordanPass includes entry fees to various touristic places including Petra and Wadi Rum desert and it works as fee waiver for visa as well. Make sure you buy it in advance. More details here: https://www.visitpetra.jo/
It is enough to visit Petra in one day, but wake up early and get there in the morning, not holiday "morning" after 11am. Make an effort and climb up to the Monastery at the very end of the valley – it is so impressive. As much as Treasury at the beginning. Trust me.
Key words: water, sunglasses, hat.
Women, girls, please respect the culture and cover your legs and shoulders. Skirts under the knees are ok.
If you have time, certainly visit Wadi Rum desert and spend at least one night in Bedouin's camp – I strongly recommend the one we visited: https://wadirumquietvillage.camp/
If you fly trough Israel, be at the airport at least 3 hours before your flight and get ready for many questions.
And the overall feeling? One of the first scenes in Dirty dancing movie, when Baby exits the car and manager of the hotel welcomes them, he says "Within 3 weeks you experience more than within a year"… it applies here, with a little correction – within 3 nights…